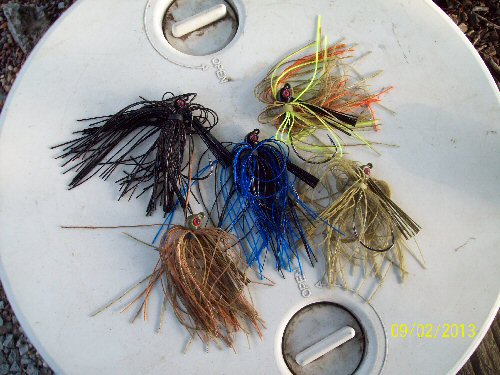 This is a update on the new line of finesse jigs being manufactured by BJ Adcock owner of Real Bait Company. They come in 2 sizes 1/8 ounce and 1/4 ounce and 2 head colors Black or Green Pumpkin. BJ also covered the skirt color range extremely well using using 5 colors. Black...Black/Blue...Green Pumpkin w/Green & Purple Flake...Green Pumpkin w/Amber & Brown and Homer which is a Chartreuse, Orange, Green Pumpkin & Brown. All of the skirts are Round Silicone (not flat like most others) which creates more of a pulsating effect in the water. The 1/8ounce Finesse Jig has a 32 strand skirt and the 1/4ounce a 42 strand skirt. Both sizes have 3D Eyes and here is a real plus both come with a 3/0 Wide Gap Mustad Hook.
We all know that there are multiple ways that you can fish a jig, from casting to pitching to dragging to hopping and more. But my favorite is "Swimming it" year around. It's no secret that I'm a "light line" 6lb to 10lb Sufix mono guy. I like light line and light tackle and these jigs fit the bill perfectly. There are times when the fish are very shallow and spooky that the 1/8ounce jig with a smaller/lighter trailer makes a world of difference. There are times in water a little deeper that you want a jig that has a slower fall rate. That's another application where the 1/8ounce shines. Then there is times when you still want a "Finesse Jig" that has a little more of a bulky profile. This is where the 1/4 ounce with the 42 strand skirts and a bigger bodied trailer comes in. These are my jigs of choice and my company of choice, no questions asked.
I know some of you are thinking a jig is a jig is a jig. And in some respects that's true. But what about a high quality jig that is "CHEAPER" than most all others? BJ packages these in 3 packs and they retail for approx $5.00 to $6.00 depending on the location. Not only do you get quality but a break at the cash register as well. Real Bait Company is 100% American Locally owned and operated. Check these out at the following stores in your area. Murfreesboro Out Doors, Poindexters, Flippers, Hook 1, Ace Hardware in Smithville, Rock Creek Market at the Rock Creek ramp on Tim's, Hwy 41 Market (formally Woods and Waters) on your way to Normandy and Prowler in Leitchfield Ky. Rick McFerrin Tennessee Bass Guides.
---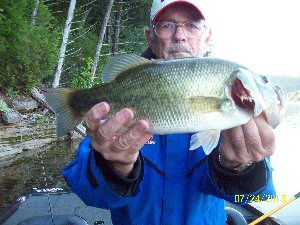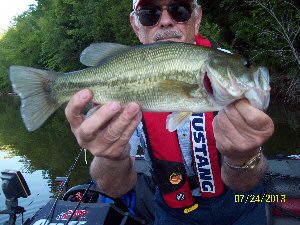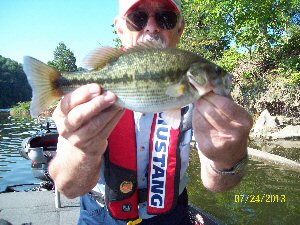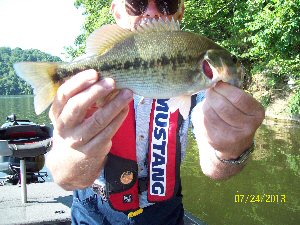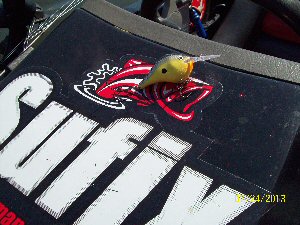 Normandy 7-25-2013
I haven't been on Normandy since early April. I only had 4 hours to fish this morning so instead of running down to Nick A Jack iI put in at the Barton Springs ramp at day light. I decided to concentrate on areas that historically have given up fish and all but 2 spots paid off. In the 4 hrs I caught and released 9 including the four that you see above. Everything was caught on a Old School Rapala DT6 www.rapala.com 8lb test Sufix Mono www.sufix.com and a AllPro 7' med APX Spinning Rod www.allprorods.com Water level is a little high and temps ranged from 78 to 83 and there is good color as far up as the 2nd bridge. Rick McFerrin www.tennesseebassguides.com
---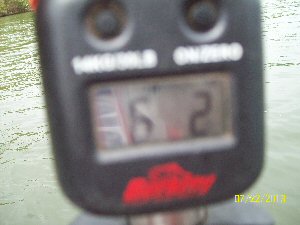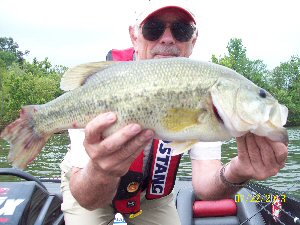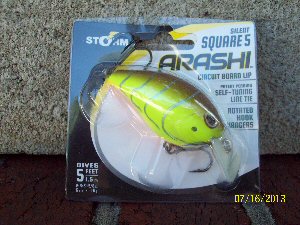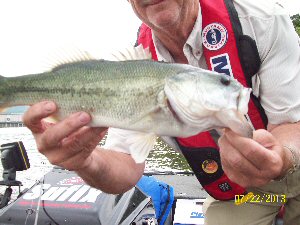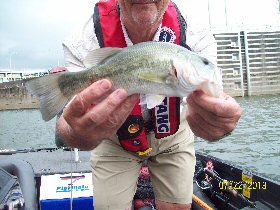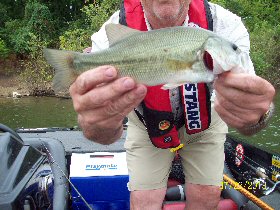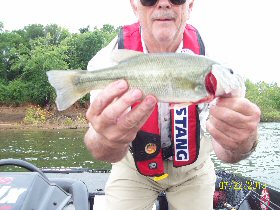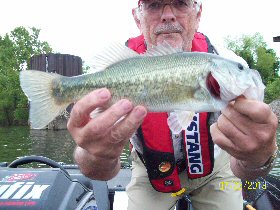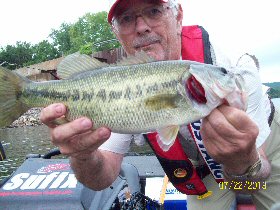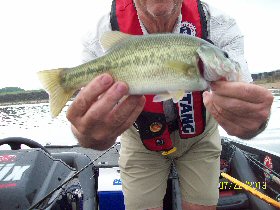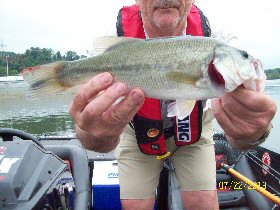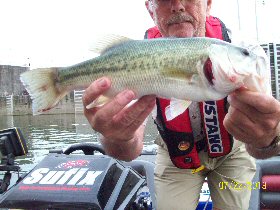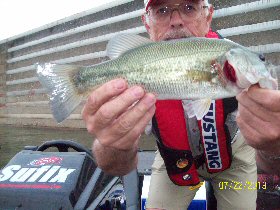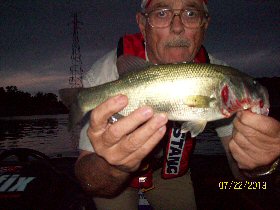 Nick A Jack 7-23-2013
When I got to the river this morning I knew things was going to be tougher than the last trip because there was very little generation. Things started out slowly but when I finally figured out where they were holding it was fast and furious for a couple hours. All the fish you see above was caught on the "NEW" Chartreuse Storm Arashi Silent Square Bill www.stormlures.com that you see pictured above and the OLD RELIABLE Rapala Skitter Walk www.rapala.com When they got off the crank bait they would unload on the top water. There are some very subtle feature in the river channel bends when the water is down like this that makes a big difference. Boat control and positioning is easier with slower current, but I would take all the current I can get (within reason) down here any day. I think I caught over 20 easy and as I said all on these 2 baits. I like throwing these square bills on a All Pro 7'6" Blaster Cranking Rod www.allprorods.com and Sufix 832 Braid www.sufix.com . I used a All Pro 7' m/h APX for the Skitter Walk and 10lb Test Sufix Mono. Big fish by the scale 6lb 2oz . Rick McFerrin www.tennesseebassguides.com
---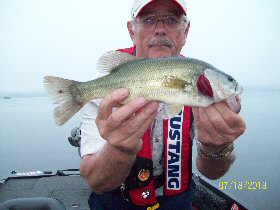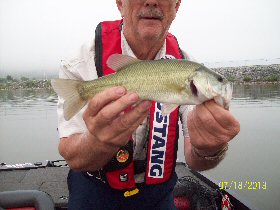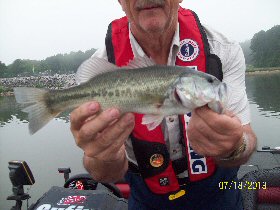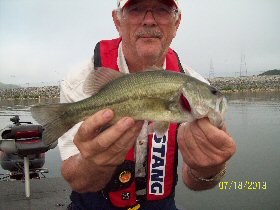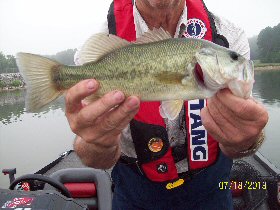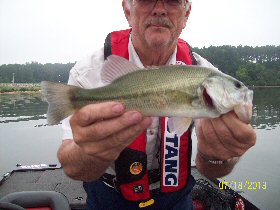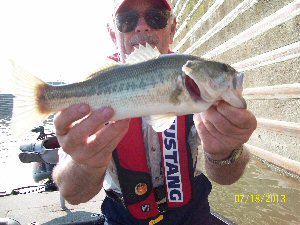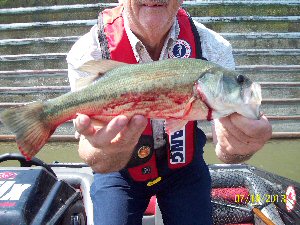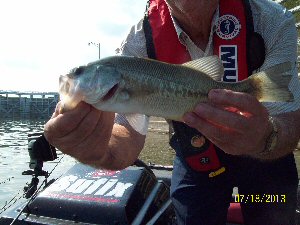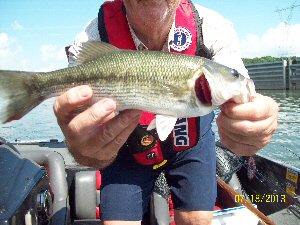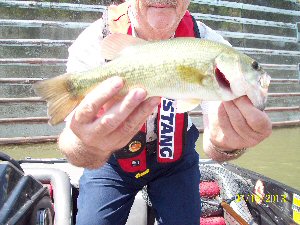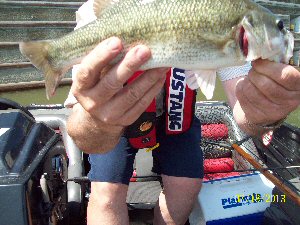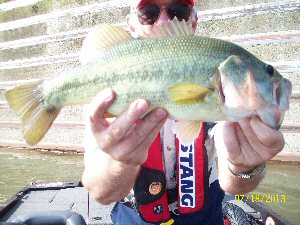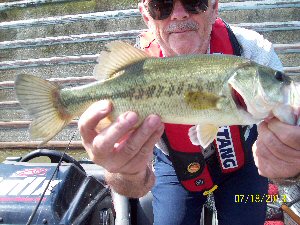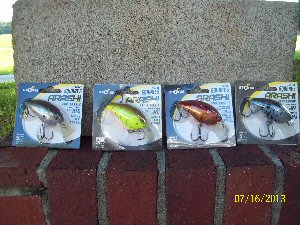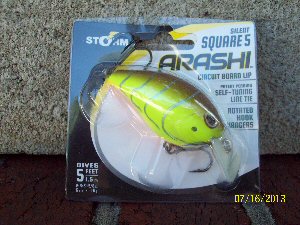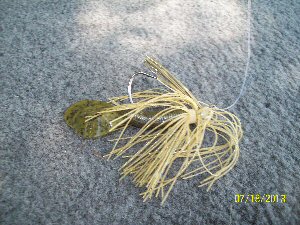 Nick A Jack (Above & Below) 7-19-2013
I headed out to Nick A Jack to fish the lake side this morning. I put in right at day light and caught several on the new Storm Silent Arashi Square Bill #5 in the Shad color www.stormlures.com and the same Real Bait Pumpkin 1/4ounce finesse jig that we used on Tim's yesterday. I rigged these jigs with a Trigger X Craw Trailer www.triggerx.com and fished them around the rip rap areas at the dam and swimming them just above the grass in 6 to 7 feet of water. I loaded back up at 8:30 and put in on the river side at 8:45am and fished until 11:30am and had a ball throwing the same 2 baits on the wing walls. I'm very impressed with this new Storm Arashi Square bill. It tracks extremely well, and the broad lip deflects the bait away from obstacles. The hooks are positioned in a way that they just don't seem to hand up as easily as some other baits. I throw my square bills on a 7' 6" All Pro APX Blaster Rod www.allprorods.com and Sufix 832 Braided line. This combination is deadly, you can feel "EVERYTHING" that even comes close to the bait! I will be writing a article on these in the next couple weeks when I have had more time to throw them. BUT if you like to throw square bills these will be right down your alley. I'm also impressed with this finesse jig that Real Bait Company makes. BJ's shop is just up the road from our church so I have the opportunity to visit there on a regular basis. He is a very meticulous about everything that he makes and compared to other companies offers you a premium product at a great price. More for your $$$$$ which you will need to put gas in your boat! A great day and I honestly believe that I could have stayed on fish below the dam most of the day...but to hot for me! More next week Lord willing. Rick McFerrin www.tennesseebassguides.com
---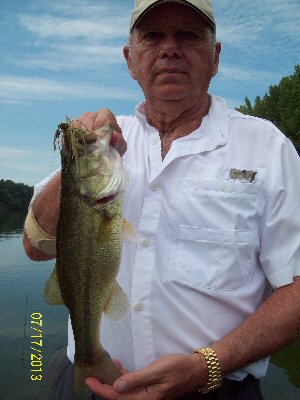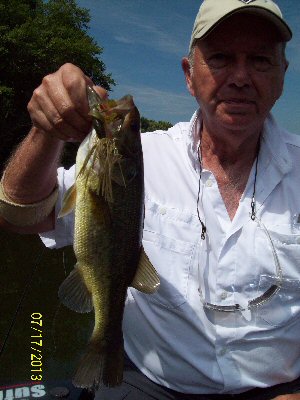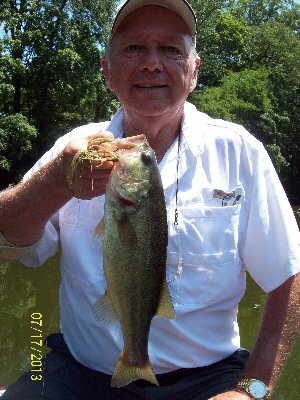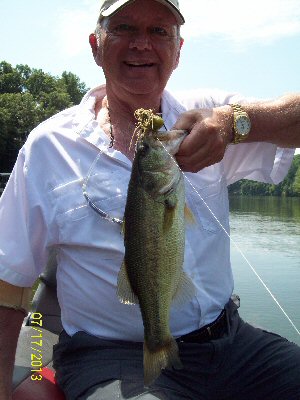 Tim's Ford 7-18-2013
I met Mr. Earl Hull at the Rock Creek Ramp at 5:45am yesterday and we had a fun 5 hours. We caught and released 15 Largemouth all about the size of the fish that you see above. Water is still a little high and there is great color in the river. Water temp was 85 degrees, and was as slick as glass. We also battled mile high blue bird sky's. But here's the kicker we never caught a fish in MORE THAN 3 feet of water swimming a Real Bait Pumpkin 1/4oz finesse jig with a Trigger X Craw Trailer www.triggerx.com The key was banks close to the channel that had as much wood as possible. You just had to stay persistant and throw at everything you could see. We both used Sufix 8lb mono www.sufix.com and I was throwing these on a 7' m/h All Pro APX spinning rod www.allprorods.com If you haven't tried these jigs from Real Bait Company you need to pick some up. BJ uses an oversized 3/0 hook and round silicone skirts that have a pulsating effect in the water, these are very well made just like everything BJ makes and you get a great bang for your buck at the cash register. Check you local tackle store in Kentucky, Alabama, and Tennessee. If you live near Murfreesboro Randy carries a full selection of Real Bait items at Murfreesboro OutDoors along with all the Rapala, Storm,Sufix and Trigger X www.rapala.com baits that I use. Rick McFerrin www.tennesseebassguides.com
---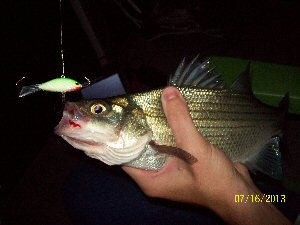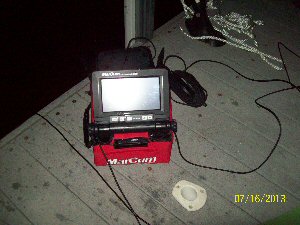 Tim's Ford 7-16-2013
3 weeks ago I was throwing a trash bag into the back of my truck to go to the land fill and "WHAM" there went my back! Down to my knees I went and I didn't know if I was going to get back in the house. But thankfully no permanent damage just some 65 year old mussels in my lower back that stretched the wrong way. Back to 80%! Last night Daniel my youngest and I went down to Tim's to fish off a good friends dock and try out my MarCum V385 Underwater Camera and the Rapala Jigging Shad Rap www.rapala.com pictured above. This info will help anyone that loves to vertical jig (day or night) in just about any open water application. If you frequent my site you know that I'm very partial to the bridge columns and docks on Tim's. Through the years I have caught multiple species from Smallmouth, Largemouth, Walleye, Hybrids, Rockfish, Crappie and White Bass on docks and columns (this is important) 12 months out of the year. A lot of people think they only produce in warm water situations but that's not correct. Also you can use a variety of lures (top to bottom) but one that produces when things are a little tough and the fish are suspended under you is the Rapala Jigging Shad Rap and Rapala Jigging Rap. There is a definite difference in the action of these 2 baits. The Jigging Shad Rap has a tighter/ quicker circle down action when vertical jigged. And with a sharp rod snap it creates a "Vibrating" motion that many times triggers the strike. Their bodies are shad shaped and come in 2 sizes 3/16ths and 5/16ths 12 colors and some have a "Glow in the dark" finish which we were using last night. The Jigging Rap come in sizes from 1/8th to 3/4 ounces and 17 colors had has a Minnow Profile Body. We set the MarCum Camera V385 at various depths (up to 70 feet) with and without the light function and you could see the fish schooling and chasing shad 15 to 20 feet deep across the screen. These units work extremely well when the water is clear, and with all the rain that we have had Tim's water is stained at best. They also produce sharper pictures when it is sunny and the light is penetrating the water. These are additional tools that can be used in many different ways to help you see and understand what is going on under your boat. Although we didn't catch any "Lunker" size fish we did manage to catch 40 or more White Bass and Small Rock Fish in the 4 hours that we were there. All 3 of us was using either 6 or 8lb test Sufix mono www.sufix.com and AllPro APX Spinning Rods www.allprorods.com . If you have any questions feel free to contact me at rickm@dtccom.net Thanks for visiting my site and Lord willing I will have more updates this week. Rick McFerrin www.tennesseebassguides.com
---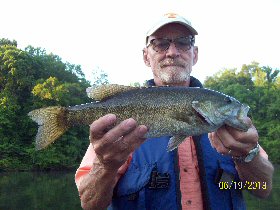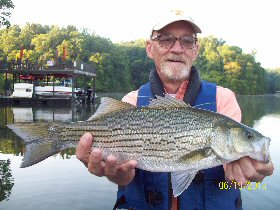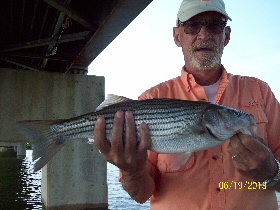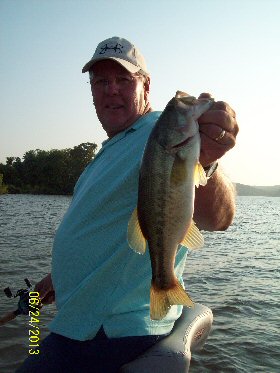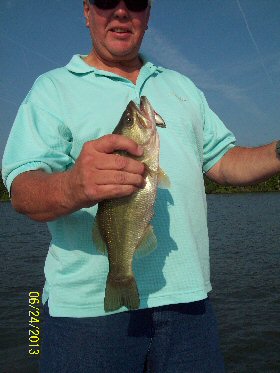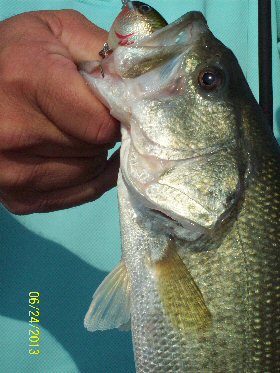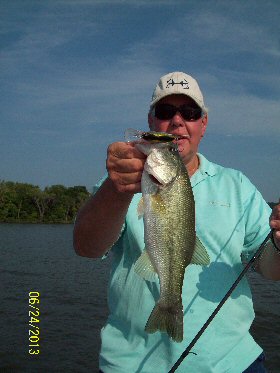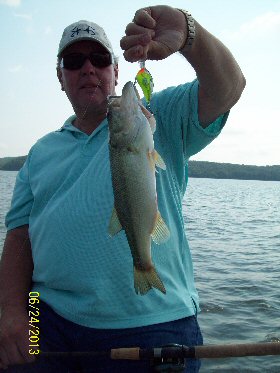 2 Separate Reports
Trying to get caught up from having modem problems here in my home. I met Rick Ship last week for a short 4 hour trip on Tim's. We caught and released several smaller Smallmouth and Largemouth with the 3 fish pictured being our best. These were caught on a swimming a Trigger X Finesse Worm www.triggerx.com on a 3/16th VMC Shaky Head Jig www.vmchooks.com and 8lb test Sufix Mono www.sufix.com I was using a 7ft All Pro APX medium spinning rod www.allprorods.com. We left the lake around 10:00am when the temps ramped up. Today I met Ken Jenkins and we fished KY Lake. We had to work for everything we caught (12 Largemouth/no big fish) and all our fish came on either a Rapala DT10 Bleeding Olive Shiner or a DT 10 Parrot www.rapala.com Ken was using a 7ft 3in All Pro Blaster Bait Caster and I was using a 7ft All Pro m/h APX Spinning. We left the lake around 11:30am this morning as well. 2good guys to be in the boat with. More next week Lord willing. Rick McFerrin www.tennesseebassguides.com
---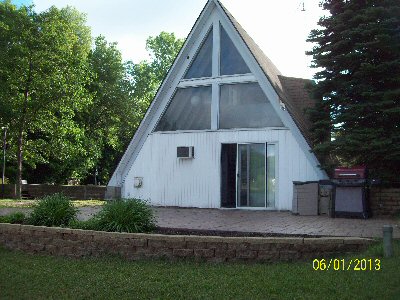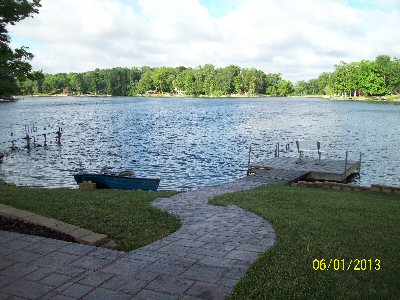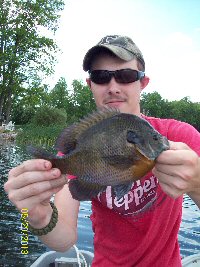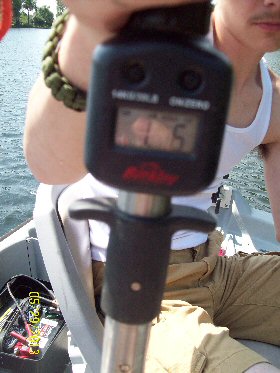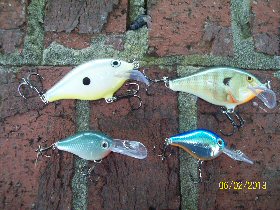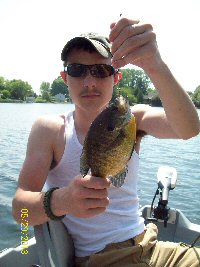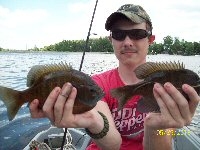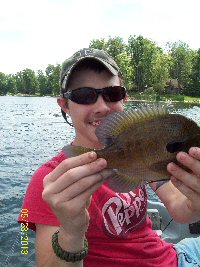 Private Lake In Indiana
My youngest son Daniel and I had the opportunity to fish a premier Blue Gill Lake in Indiana for 3 1/2 days last week and we had a blast. The top pictures are where we stayed and a view of the lake and dock area at the cottage. This is a trolling motor only lake and we fished from a 10 foot 2 man bass boat with a 27lb thrust hand control trolling motor. We caught well over 300 Blue Gill with the largest weighing in at a hefty 1lb 6ounces. The average size was between 12 ounces and a pound. We also caught at least 100 Largemouth with the largest weighing about 3 pounds with most in the 1 1/2 pound range. We used a couple different tactics for the gills including floating a 1/16th oz VMC Chartreuse Orange Hot Glow Jig www.vmchooks.com under a float and throwing one of the "NEW" Rapala Ultra Light Crank Baits in either a silver and blue or Shad colors. www.rapala.com Both tactics worked well, but these big gills would smash the crank bait. We also caught several Largemouth on this small bait as well as the "New" Scatter Raps pictured above www.rapala.com and a #5 Shallow Shad Rap. We teamed these baits up with 6 and 8lb test Sufix mono www.sufix.com a 7 foot All Pro APX Med/Light spinning rods. www.allprorods.com I can remember many trips through the past 50 years when a smaller bait out performed larger ones and a bait that had a "Different" retrieve pattern like the Scatter Raps made the difference between scatting your head or netting fish . Go by your local tackle shop and pick some Rapala Ultra Light Cranks and the New Scatter Raps. What a great time with Daniel and there are 100's of these types of lakes scattered all across the country that provide a wonderful change of pace from our larger impoundments. Take a kid fishing you will never regret it and they will always remember. Rick McFerrin www.tennesseebassguides.com
---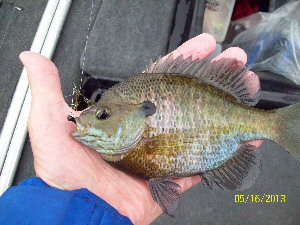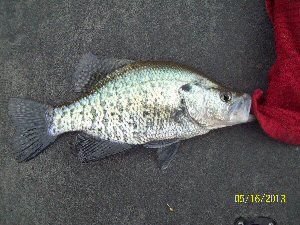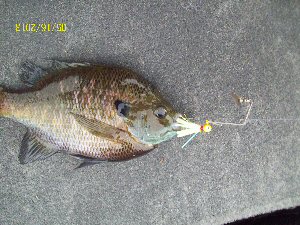 Woods Reservoir 5-17-2013
I slipped off to Woods this morning to see if I could find some Crappie for the freezer. I checked out several areas that normally hold them this time of the year but with no luck only 4 o5 White Bass. I decided to see if I could find some Gill beds and when I found them I had a blast for over 3 hours catching and releasing 75 plus Gill's, Shell Crackers , Crappie and White Bass all on a 1/16th oz VMC Chartreuse Orange Hot Glow Jig www.vmchooks.com rigged on a very small safety pin type spinner. There are several real benefits to using this little jig that I need to point out. The skirt is made of a Highly Reflective Tinsel that WILL NOT come off the jig head. I caught every on of these fish on the same small jig. Will they hit a soft plastic grub "SURE" but how many will you have to replace catching 75 or more? The hook is manufactured with VMC Premium Carbon Steel that has a great bite and is stout enough to put even much bigger fish in the boat. I threw this little combo on a AllPro 5'6" APB Ultra Light Rod www.allprorods.com a 4lb Test Sufix Mono www.sufix.com I know it's hard to determine the size of these but many of the Gills were "hand size" the 5 Crappie were all 10" to 11" and the Shell Cracker ran larger than the Gills. This is a great time to TAKE A KID FISHING. When they bed like this they are easy to catch and the kids will have a blast (we big kids do too!) Rick McFerrin www.tennesseebassguides.com
---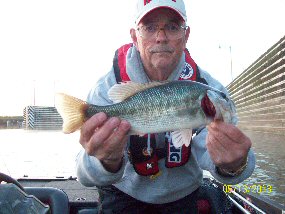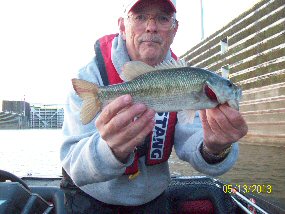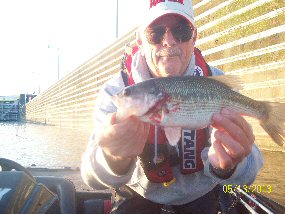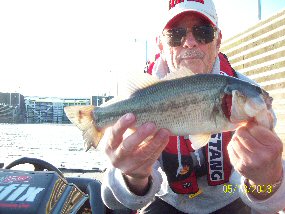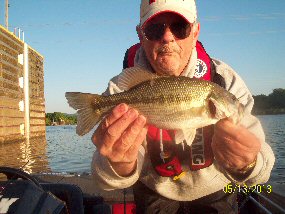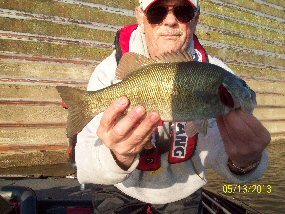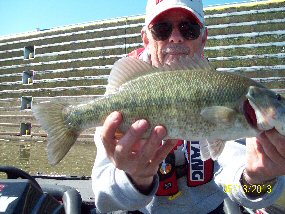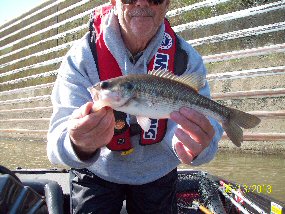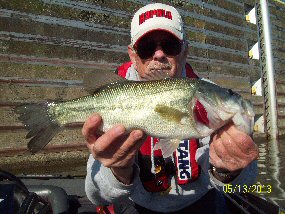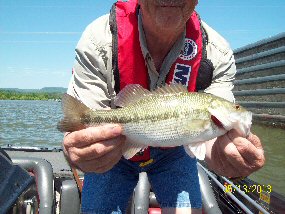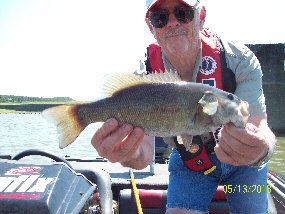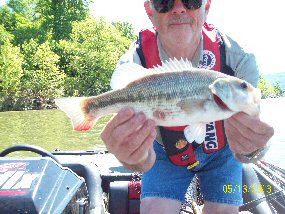 Nick A Jack 5-14-2013
Less water, less current, less fish and over all smaller. That just about sum's up my morning below the Nick A Jack dam today. I think I had 20 or so today (Spots and Small Mouth) all on a Trigger X Shiner Swim Bait www.triggerx.com rigged on a VMC Swim Bait Head www.vmchooks.com and a Blue Gill 5 1/2 inch Trigger X Probe Finesse Worm www.triggerx.com rigged on a Real Bait 1/8 ounce Bullet Jig Head (see at Murfreesboro Outdoors) All pro 7' APX Rod www.allprorods.com and 8lb Test Sufix Mono www.sufix.com The water level had to be down 6-8 feet verses last week and the lack of current sure made a lot of difference. But!!!!! I enjoyed the day the Lord gave me and I will update you on my next trip. Rick McFerrin www.tennesseebassguides.com
---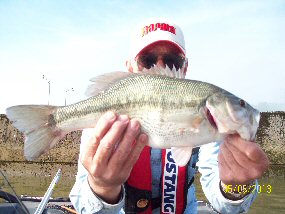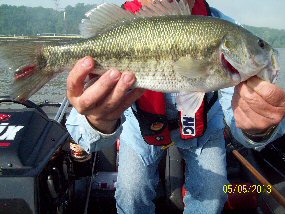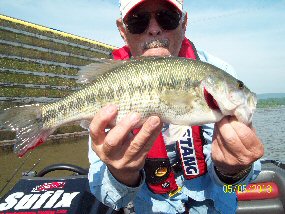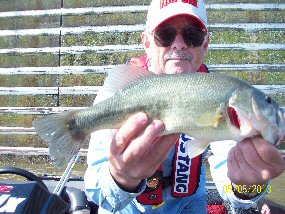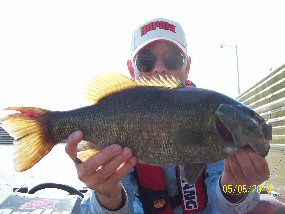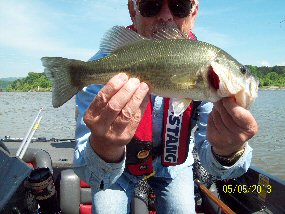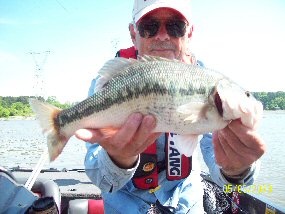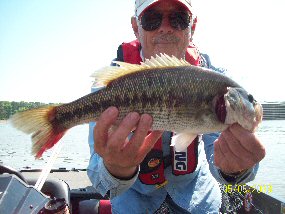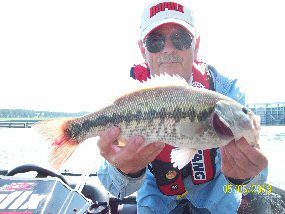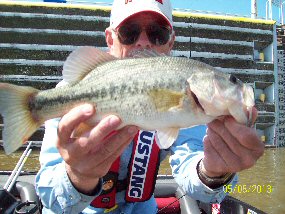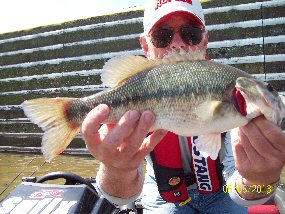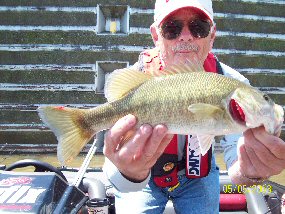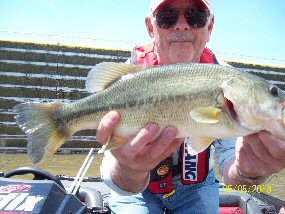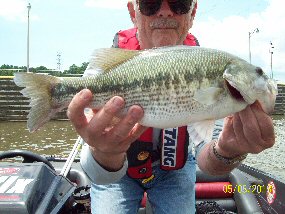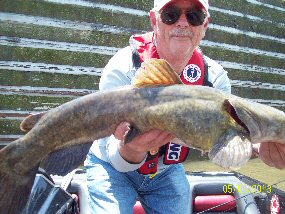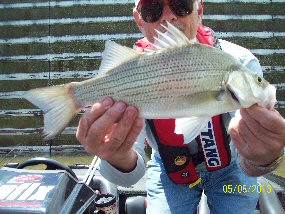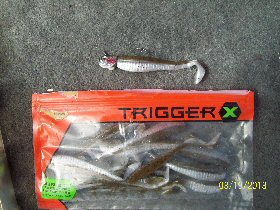 Nick A Jack 5-9-2013
Daniel was suppose to go with me today but he Turkey hunted instead and he flat missed it!!!! I put in at daylight below the dam and fish 2 spots all day. I could have taken twice the number of pictures that I took but I think the fish above will give you an idea of what happen today. I caught Smallmouth, Largemouth, Spots, White Bass, Rockfish and 1 big Flat Head Catfish all on a 4 1/2 inch Trigger X Shiner Paddle Tail Minnow www.triggerx.com rigged on a 3/8 ounce VMC Swim Bait Head www.vmchooks.com Everything you see was caught on a Med AllPro APX Spinning Rod www.allprorods.com and 8lb Test Suffix mono www.sufix.com . Wow what a great day! Rick McFerrin www.tennesseebassguides.com
---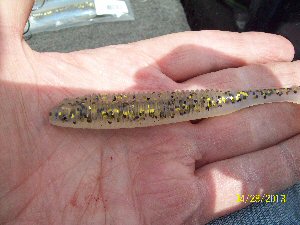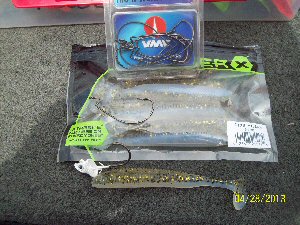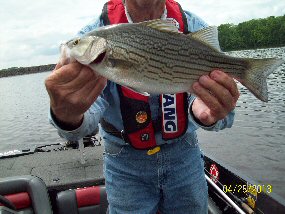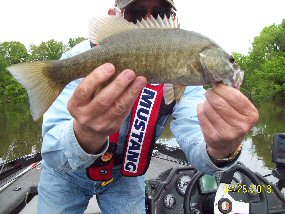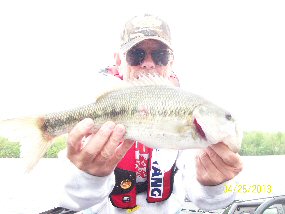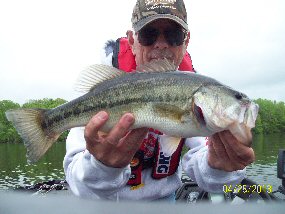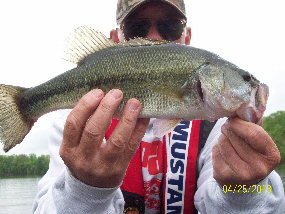 Tim's Ford 4-29-2013
I headed to Woods Reservoir this morning to Crappie fish and when I passed over the Morris Ferry bridge it was chocolate brown and rolling, so I cut through Deckard and put in at the State Park on Tim's instead. With the 5 inches or more rain fall we got this week end the water level is up over the wood walk way at the marina. I struggled around for the first hour or so checking out the trees with a Chartreuse/White Terminator Spinner Bait www.terminator.com and a floating worm with no results. So I switched tactics and went with a "NEW" soft plastic Trigger X Bait called a "SLOP HOPPER" in the Shiner Color www.triggerx.com (See picture above) This is a 4 1/2 inch swim bait/jerk bait that has a big paddle tail that creates a vibration that you could feel through the handle of the All Pro APX 7 foot m/h Spinning Rod www.allprorods.com that I was using today. After I switched to the Slop Hopper I finished the day with 6 Smallmouth, 4 Largemouth, 2 Hybrids and 4 White Bass. I used this bait in 2 ways today One as a swim bait rigged with VMC 1/4oz Swim Bait Head www.vmchooks.com and as a jerk bait rigged with a 3/0 VMC Wide Gap Hook www.vmchooks.com . When used as a swim bait the fish would smash the Slop Hopper, when they came up for it as a jerk bait they would just inhale and swim off. Either way they liked what they thought the saw. Not sure about the rest of the week, Daniel graduates from high school in a couple weeks and we have several activities lined up. If I get away I will post the results. Rick McFerrin www.tennesseebassguides.com
---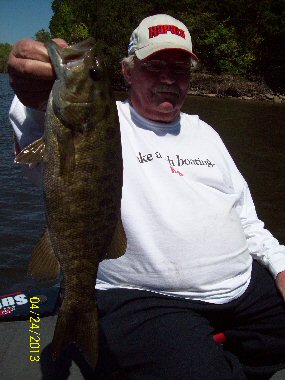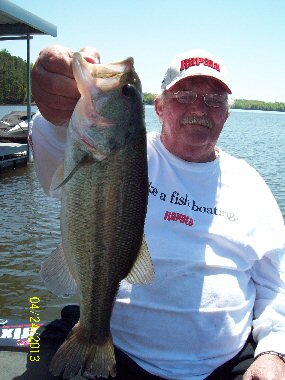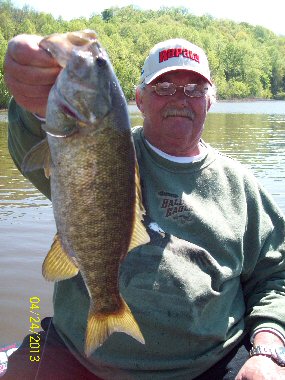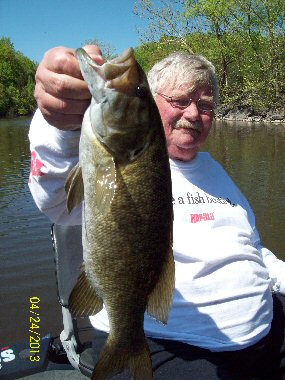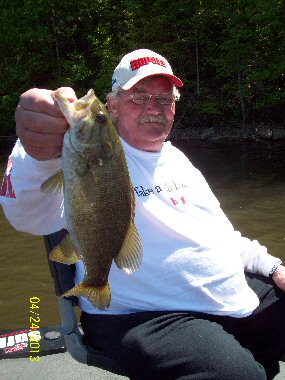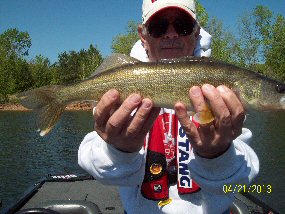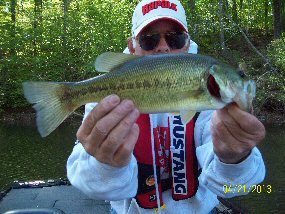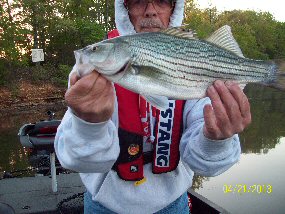 Tim's 2 Day Report w/o 4/22/2013
I fished twice this week on Tim's both after a front had moved through leaving blue bird high pressure skies and colder temps. David Honey (pictured above ) and I threw tuffy's yesterday and caught a mixed bag of Smallmouth, Largemouth, White Bass, Flat Head and Channel Cat Fish. I was using a 7' 6" AllPro APX Med/Light spinning rod www.allprorods.com and David a APX 7' APX Med. I honestly believe that the 7'6" M/L is the best rod I have ever used for this application. Because of it's length you get more distance throwing a 2 inch minnow on a VMC Bait Keeper Hook www.vmchooks.com but yet it is ultra sensitive and the extra length gives you a lot of leverage with these acrobatic Smallmouth. By the way these rods are x-strong as well, and when teamed up with 6lb test Sufix mono www.sufix.com it's unbelievable just how strong. Earlier in the week I caught several Largemouth, Walleye and Small Hybrid's on a VMC 1/4oz Swimbait Head www.vmchooks.com rigged with a Trigger X Shiner Slop Hopper Swim Bait www.triggerx.com or a (NEW SIZE) Bleeding Chartreuse Shad #6 Rapala Shad Rap. Just a quick tip for those that might want to try using tuffy's. On several prior trips (see posts below) the Smallmouth hit these much better using the the Real Bait 1/16oz jig with a brush guard but today they wanted the minnow running free on the VMC Bait Keeper Hook. DON'T get caught up in not changing up. I keep 1 rod rigged with the hook only and one with the jig. I can hear someone right now "That can't make that much difference"! Friend you must not fish Tim's much. When you are dealing with weather conditions like these these small changes can make a big difference. More next week Lord willing. Rick McFerrin www.tennesseebassguides.com
---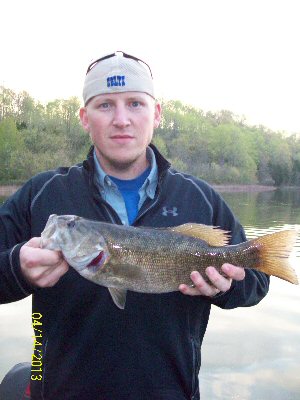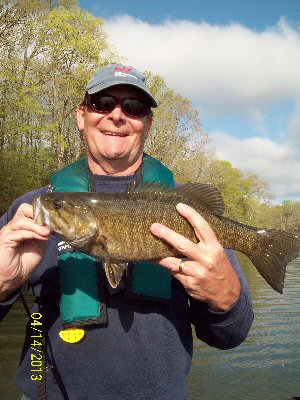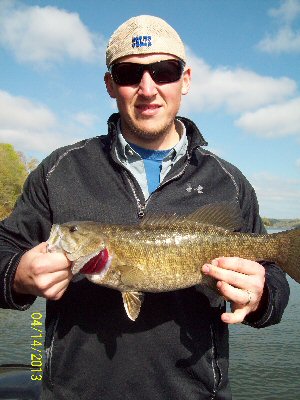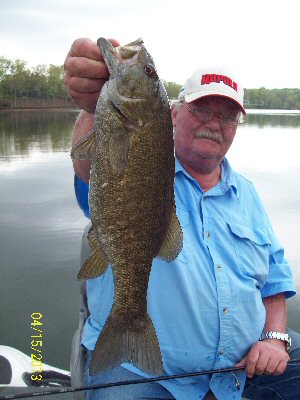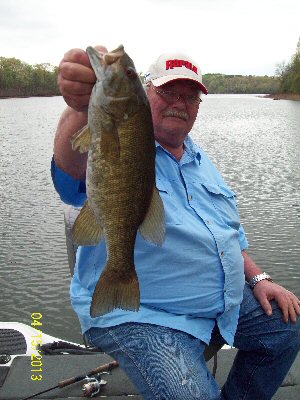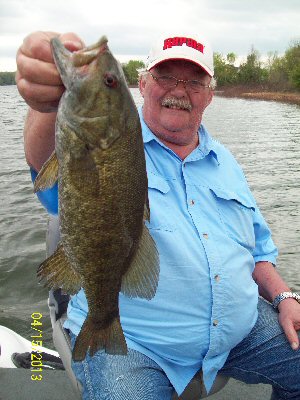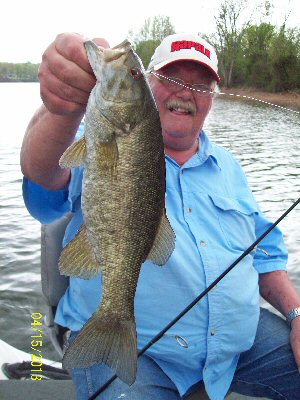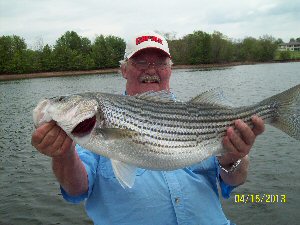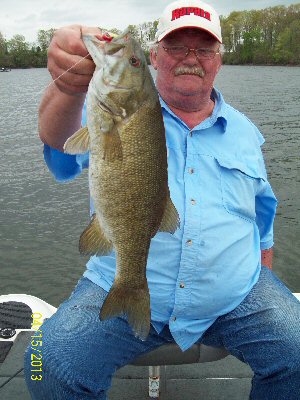 2 Day Tim's Ford Report
This report is for 4-15 & 16-2013. Yesterday I fished with Dave and Brent throwing tuffys on the 1/6th ounce jig made by Real Bait Company. (see picture on the 4-12 report) The 3 above (top row) were our best for the day. We caught several others and lost 6 that were just plain good fish. These guys were great to be out with for the day and both good fishermen. Today I fish with David Honey and we had a decent day as well throwing swim baits on a VMC Boxer Jig head www.vmchooks.com and 6lb test Sufix Mono www.sufix.com . Yesterday we used the 7'6" All Pro APX M/L Rods that are fantastic for throwing live bait and today 7' All Pro APX Med Rods www.allprorods.com . Good 2 days on the water. Just a side note this is the first time that David and I have been able to get out together since March 21st and it was good to fish with him again. We have become great friends over the years and have caught a lot of fish together, Lord willing there should be a few more. Rick McFerrin www.tennesseebassguides.com
---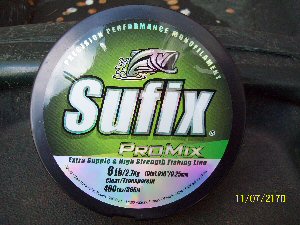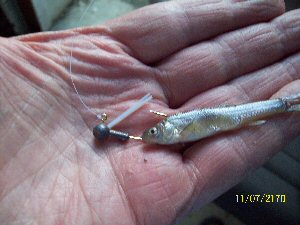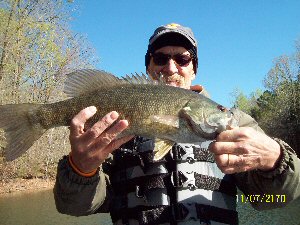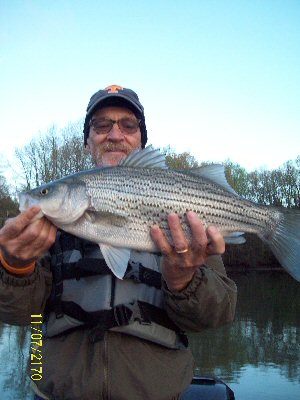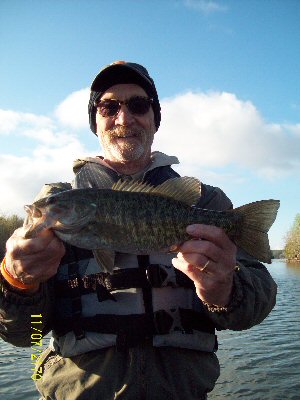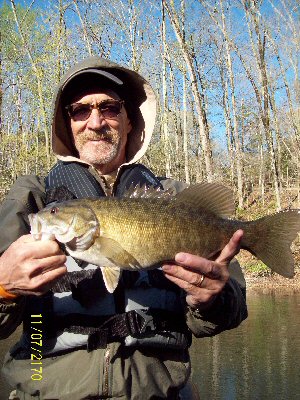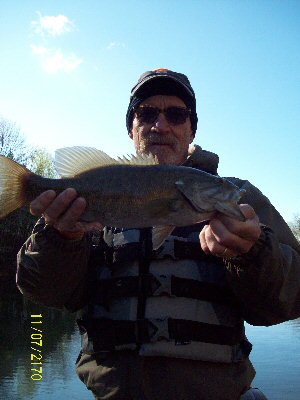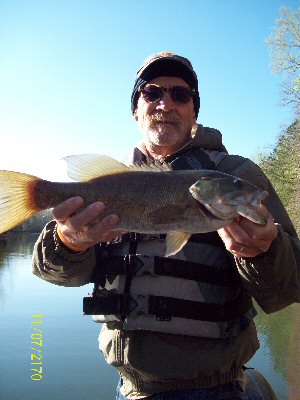 Tim's Ford 4-12-2013
I met Rick Shipp (pictured above) at the ramp at 6:30am and we fish until noon. The fish above are our best that we put in the boat out of many that we caught and released. We were throwing Tuffy Minnows on a 1/16th ounce crappie jig with a brush guard and a super needle point made by Real Bait Co. (these are available in multiple stores across Tennessee including Murfreesboro Outdoors) (see pictures top row) Our rods were 7 1/2 Ft All Pro APX Med Light spinning www.allprorods.com loaded with Sufix 6lb test Pro Mix Mono. When you combine the sensitivity of the APX with the castability and smoothness of the Sufix Mono it makes for a great set up. I did loose 1 other good fish which was my fault. I will be back on Tim's and Nick A Jack again next week and will update you on the trips. Thanks for visiting my site. Rick McFerrin www.tennesseebassguides.com
---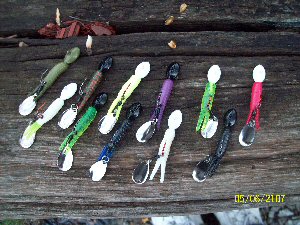 Real Bait Company
I want to give you some information concerning a new lure that B.J. owner of Real Bait Company has recently begun making. I know what these look like, no they aren't....BUT.....you won't know the difference except when you go to the cash register to check out because you can buy several of these for what you would pay for 1 of the other brand. For those of you that are use to catching multiple species on these little bait I won't have to sell you on these. But for those that haven't used them your missing out.....on.....Smallmouth, Largemouth, Spots, Crappie, Hybrids I could go on and on but I think you understand where I'm going. Come by Murfreesboro Out Doors this Saturday 3-16-2013 between 10am and 2pm for Randy's annual "Cabin Fever Fix" and check them out (SLOW FALL) and we will talk about how to fish them. Also check out all the other variety of baits that Real Bait Company produces. 100% U.S.A. made with extreme care, that's just the way B.J. operates. You can get these at Murfreesboro Outdoors....Poindexters...Rock Creek Mkt...and Lil Joes in McMinnville.....Rick McFerrin
---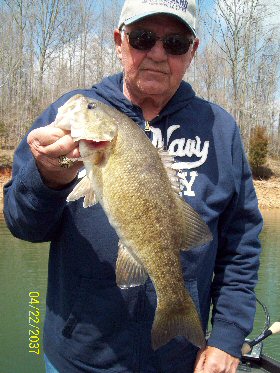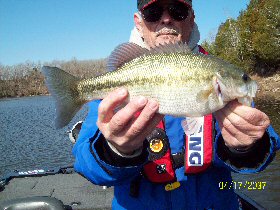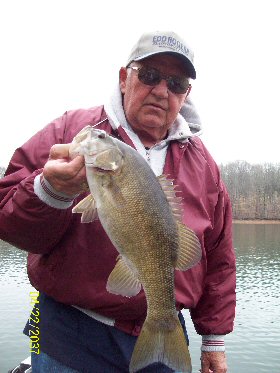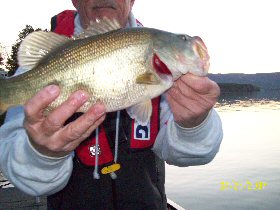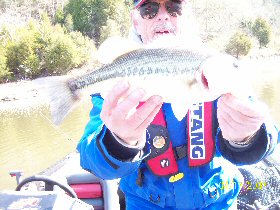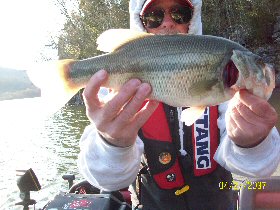 Tough 2 Weeks For Yours Truly
Daniel has been on break this week but decided to Turkey hunt so I headed out without him. I haven't had much to tell you lately. This has been 2 of the toughest fishing weeks for me that I have had in a while. The fish above are some of the ones I caught on 3 different lakes. On Normandy I caught fish on the same Rapala Red Craw DT6 www.rapala.com that I have been throwing down there for the past several weeks. On Tim's yesterday Jerry Steakly and I struggled from the get go and only managed to put the 2 Smallies above in the boat. These fish came on the "New" 1/4oz VMC Boxer Jig www.vmchooks.com that is designed for artificial and live bait applications. I was using it on a swim bait but you can also use them on Umbrella Rigs as well. These are offered in 5 colors and 4 weights from 1/8oz to 1/2 oz. The hooks on these are 1X strong and believe me they will not bend. Today I was on Nick A Jack throwing a Real Bait Tennessee Rig (these are great/light weight rigs) with the VMC Boxer Head Jig and Trigger X Paddle Tail Minnow Swim Baits www.triggerx.com in the Chartreuse Pepper Glow and the Herring. My best 2 fish came on this rig and I also caught 2 others on a Olive Green #10 Rapala X Rap. Line choices ranged from 6 & 8lb Sufix Mono to the 30/8 Sufix Performance Braid www.sufix.com . Rod choices this week was a 7foot AllPro APX Med Spinning for the Rapala crank baits and Trigger X swim baits and a AllPro APX 7'10in Med Bait Caster www.allprorods.com for the Tennessee Rig. Not sure if I will fish any more this week, but if I do I will give you an update (hopefully at better one) Rick McFerrin www.tennesseebassguides.com
---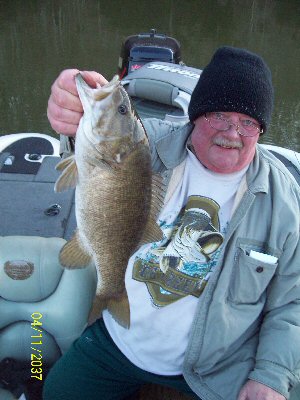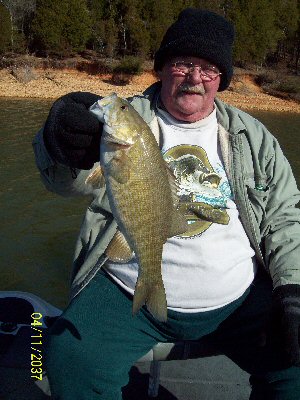 Tim's Ford 3-21-2013
How many different ways can you spell cold? How about CHILLY-FREEZING-ICY-FROZEN-WINTRY-BITTER-ARTIC. David and I put in at 7:30 yesterday morning and it was 26 degrees at the ramp. Cold Yes but "No Wind" at least tolerable. We pull into our first stop and on my 2nd cast a nice 3lb plus Smallmouth in the boat. THEN seemingly out of no where a bitter North West Wind started and it was down hill from there. I have fished on and off all winter and up until yesterday never had ice form in my guides even 1 time, but today it was that way until we loaded out at 10:30am. The areas where I have been on fish had this 15 mph cooold wind that you couldn't fish into and was to strong to fish with. Maybe I'm just getting Old? This didn't use to be a problem several years ago. 3 hour results 3 Smallmouth and 1 Spot, with the 2 above being our best. Yes I'm glad that Spring Started this week. If you fished yesterday aren't you? Rick McFerrin www.tennesseebassguides.com
---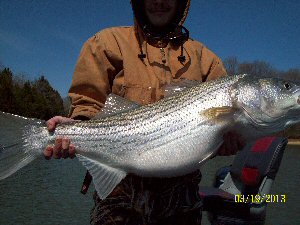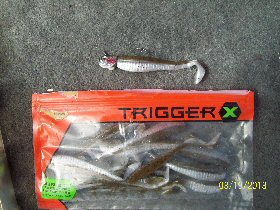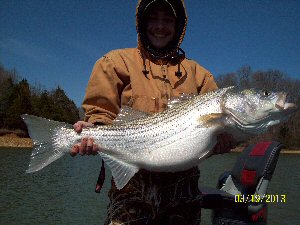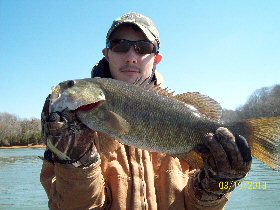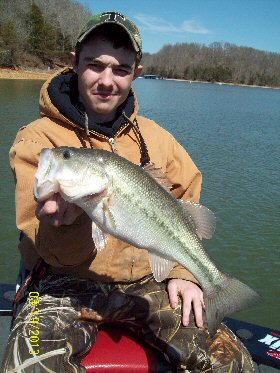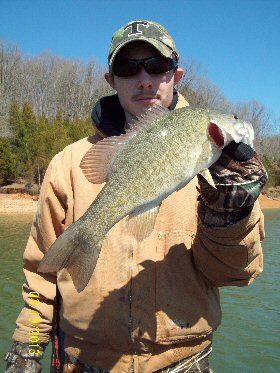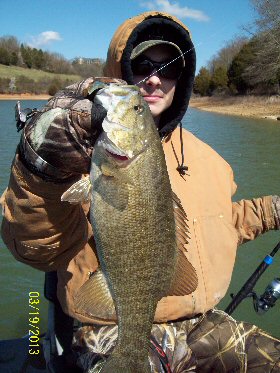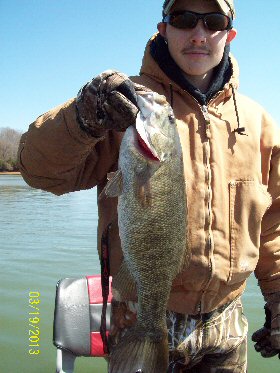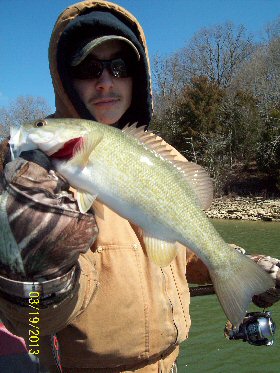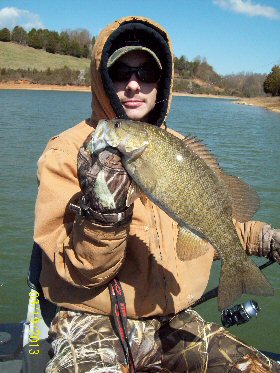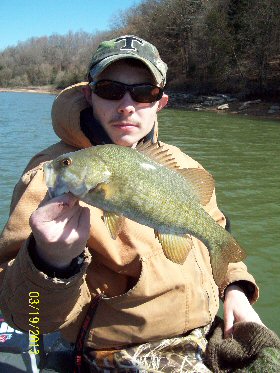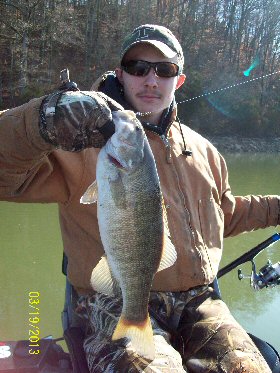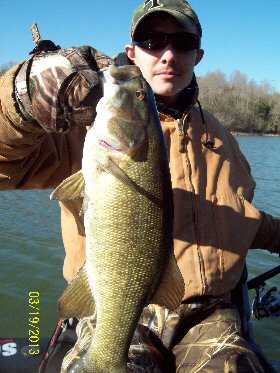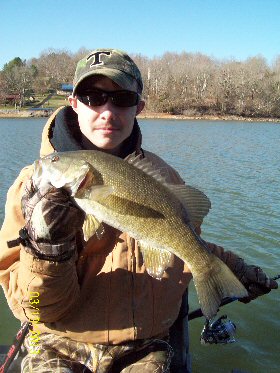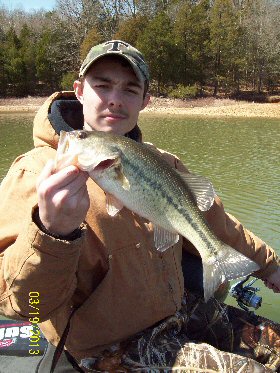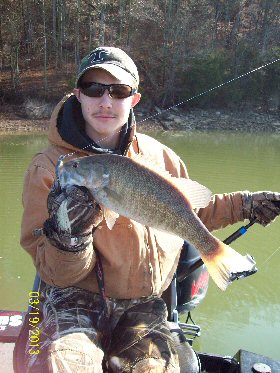 Tim's Ford 3-19-2013
My youngest son Daniel was out of school today so we headed to Tim's to check out several places that begin to produce for me this time of the year, and we wasn't disappointed. First of all the only DOUBLE PICTURE is the Rock Fish at the top of the post. This is the largest fish that Daniel has caught on Tim's and it weighed in at 24lbs 14 ounces, needless to say he was beside himself. WE both were using 8lb Sufix Mono www.sufix.com . This line is fantastic, it is small diameter, comes off the spool straight because of the special winding process Sufix uses, and is very strong. All our fish was caught on a 1/4ounce VMC Smoochin Head Jig www.vmchooks.com and a Trigger X Paddle Tail Minnow www.triggerX.com (see top picture above) Daniel was using a 7' All Pro Med/Hvy Rod and I was using a 7' Med www.allprorods.com . Total for the day was 14 Smallmouth (largest 4lb 14oz) , 2 Largemouth, 2 Spots and 1 Rockfish. Water temp was 50 degrees and color was good....no sign of the big rain we had yesterday. Daniel is a very good fisherman and will be taking over the guide business over time. I hope to get out at least 1 more time this week, if so I will post the results. Rick McFerrin www.tennesseebassguides.com
---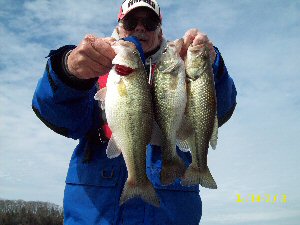 Old Hickory 3-14-2013
Ken Jenkins and I put in at Bull Creek at 9am and fished until 2pm. We caught and released either 8 or 9 Largemouth. We never had any "Good" fish But it was fun being back on Old Hickory for the first time in several years. There is a "BIG" shad kill in both branches of Station Camp Creek with water temps in the 49 to 50 range. We also found warm water in pockets above the Steam Plant. Rapala Caribbean Shad DT6, #8 Olive Green Muddler Rapala X Rap www.rapala.com and a swim bait rigged on a VMC Smoochin Head Jig www.vmchooks.com did the best for me today. I used 8 & 10lb test Sufix mono www.sufix.com and as always a All Pro 7' med action spinning rod www.allprorods.com Come by and see us at the Murfreesboro Our Doors Cabin Fever Fix this Saturday from 10am until 2pm.....Rick McFerrin www.tennesseebassguides.com
---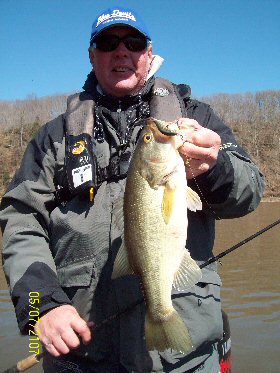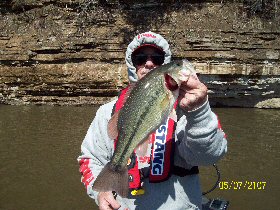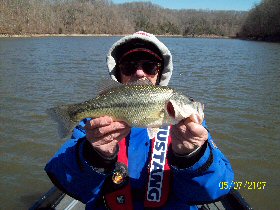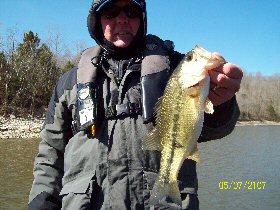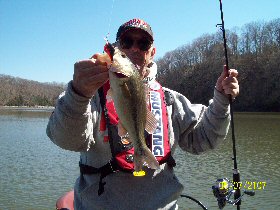 Normandy 3-12-2013
Ken Jenkins and fished Normandy today from 8am until 2pm we caught and released 9 with the ones above being our best of the bunch. It didn't seem to matter what color you used today since Ken caught his on a Bluegill Rapala DT6 and I stayed with the Red Craw Rapala DT6 that has been so good over the past several week's. www.rapala.com Water clarity and temps vary from Barton Spring and on up the river past the 2nd bridge...44 to 50 degrees, fairly clear to almost muddy. I will be at the Cabin fever Fix event this coming Saturday at Murfreesboro Out Doors between 10am and 2pm come by and I will be happy to help you with all your Rapala, Sufix www.sufix.com , Storm www.stormlures.com , Luhr-Jensen www.luhrjensen.com Trigger X www.triggerx.com and All Pro Rods questions. www.allprorods.com . Rick McFerrin www.tennesseebassguides.com
__________________________________________________________________________________________________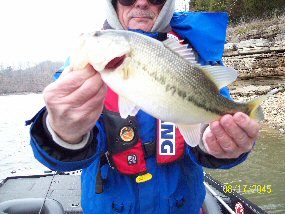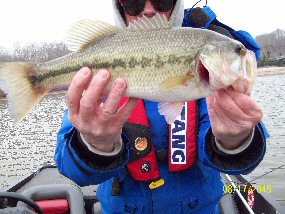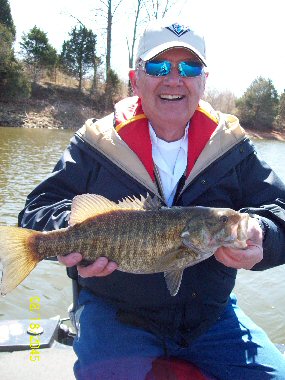 2 Day Report
Normandy/Tim's
3-7-8-2013
What a drastic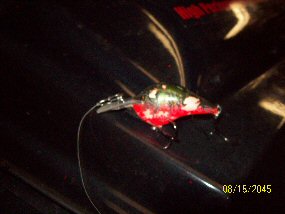 difference in the weather from yesterday and today. It was COLD yesterday and TOO beautiful today. In 4 hours I had 6 bites on Normandy yesterday and caught 5 with the 2 above being my best. Today Earl and I put in at 9:30am and fished until 1:30 and had 6 Largemouth and 1 Smallmouth pictured above on Tim's. Today we never got 5 minutes on either side of the Rock Creek ramp and all fish both days was caught on Rapala DT6's either a Red Craw or Perch. www.rapala.com As you can see the DT6 Red Craw to the (left) has some battle scars. Yes I have others but man this one works. I'm not sure how many I have caught on this same lure. We both use Sufix mono www.sufix.com and both use All Pro APX Spinning rods www.allprorods.com. Now for the rest of the story!!! Yesterday I didn't have a bite for the first 2 hours, the first fish I hung and lost was (I'm guessing) 7 to 8 lbs easy. I had her up to the boat twice, I reached down to grab the net, she lunged and away she went. I hit a little stretch shortly after that that gave up the other 5. 44 degree water on Normandy with good color, 44 to 47 on Tim's with slight color in the river. More Lord willing next week. Rick McFerrin www.tennesseebassguides.com
---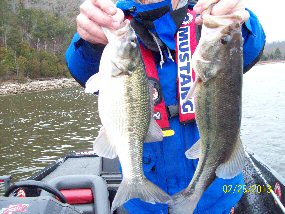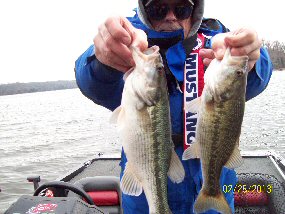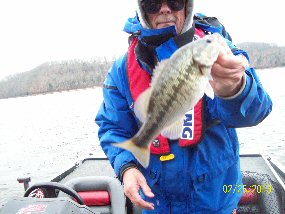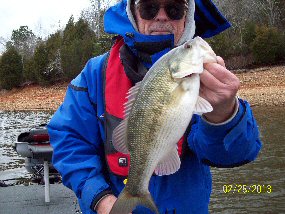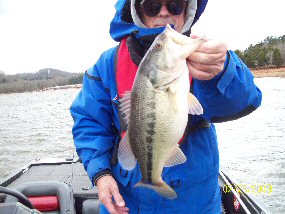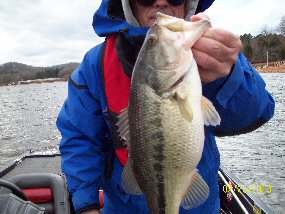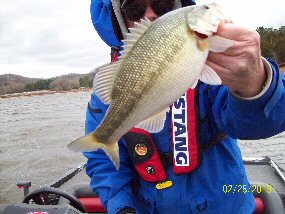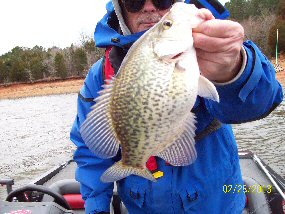 Normandy 2-26-2013
I fished Normandy today from 9:30am until 1:30pm. I caught and released 6 Spots, 3 Largemouth and 1 Black Nose Crappie. Water temp was still 44 degrees with good color and all the fish came out of no more than 6 feet of water. I caught these on 2 different Rapala DT6's, a Red Craw and the new Ike Red Demon www.rapala.com. As always I used 6 and 8lb test Sufix mono www.sufix.com and a 7 foot All Pro APX Spinning Rod. www.allprorods.com. It was cold, rainy and extra windy. And by the way I never saw another boat while I was there. I will be at Murfreesboro Out Doors for the Cabin Fever Fix event this month and will be glad to help you with all the Rapala, Storm, Trigger X, Luhr-Jensen and All Pro, and Real Bait products. I look forward to seeing you there. Rick McFerrin www.tennesseebassguides.com
---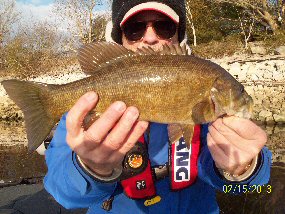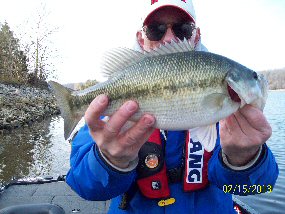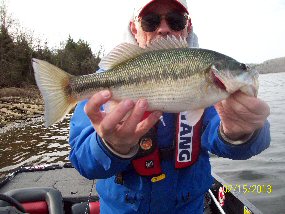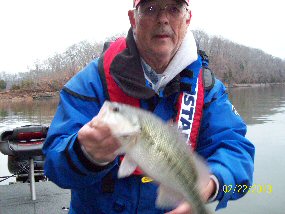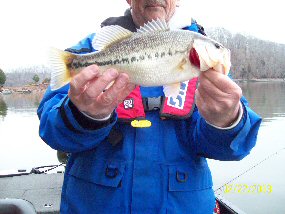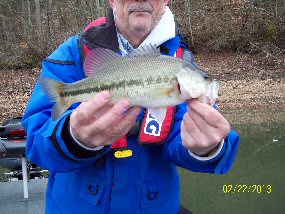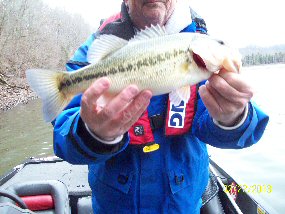 Normandy Feb 2013
My computer has been down over the past couple weeks and I haven't been able to keep up posting my trips. Since this information is 2 weeks or more old I just posted a few of the pictures that I took of recent trips to Normandy. Everything you see was caught on either a Rapala DT 6 or DT4 in a Red Craw or the Old School colors www.rapala.com 8lb test Sufix mono www.sufix.com and a All Pro 7 foot Med APX Spinning Rod www.allprorods.com Back in business now so I should be able to update my trips each time out. If your in the Murfreesboro Tn area check out Murfreesboro Out Doors. Randy carries a complete line of all Rapala, Storm, Luhr Jensen, Sufix, VMC and Trigger and APX Rods. He has a great staff that will be welling to help you with all of your fishing needs. Rick McFerrin www.tennesseebassguides.com
---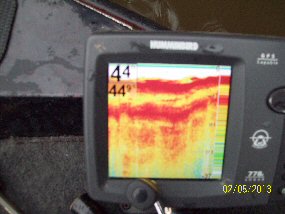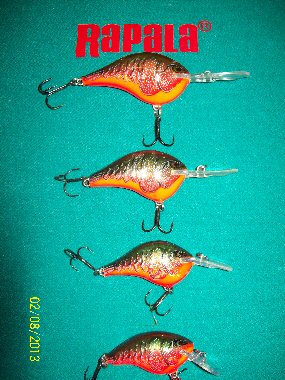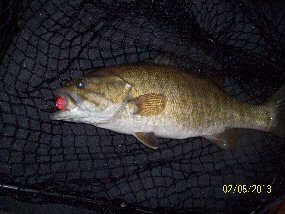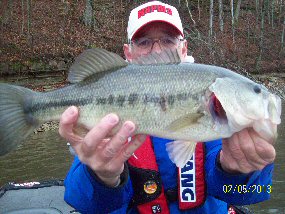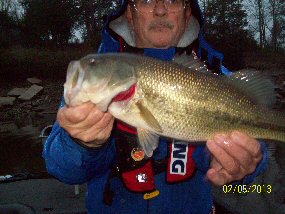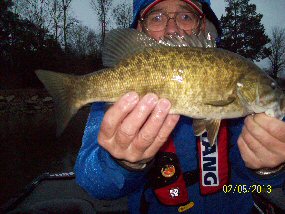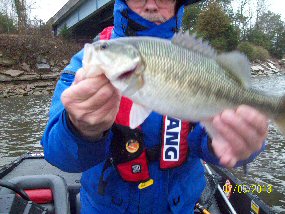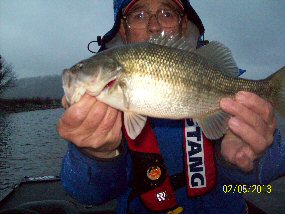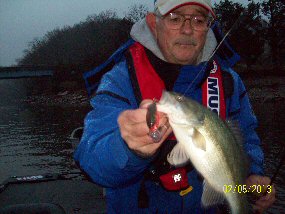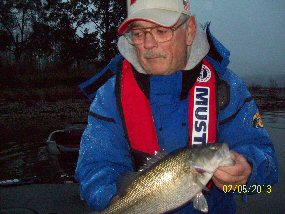 Normandy 2-8-2013
I had to go to Barton Springs this morning but be back to the house by 10:30am. So I towed the boat over there got my business done quickly and fished Normandy from 7:15am until 9:30am. Air temp was 48 degrees went I got there and 44 degrees when I left. I caught all of the fish you see above on a Red Craw Rapala DT4 www.rapala.com. I took a picture of my Hummingbird to show you the depth and water temps that these fish came out of. I never caught a fish that wasn't right on the bank and all came out of 44 degree water. The DT series baits have so many great qualities but one that should help someone that is just getting started throwing a crankbait is the depth designation of these baits. Pictured above starting at the top is a DT16 a DT10 a DT6 and the bait I caught the fish on today a DT4. The DT4 will run 4 feet deep on 10lb test line and a long cast, DT6 will run 6 feet deep etc. This allows you to select the right bait for the depth that the fish are holding in.
I use either Sufix www.sufix.com 6lb or 8lb mono 90% of the time when I'm fishing Normandy so with the lighter line these baits will run deeper than their designated depth. If your going to fish Normandy this winter let me give you a quick tip. #1 Look for stained water #2 think shallow 90% of the time #3 put your boat right on the bank and fish parallel # 4 use a med action spinning rod like a 7 foot AllPro APX Rod www.allprorods.com and DON'T FORGET you Landing Net. You will need it. More to come next week Lord willing. Rick McFerrin www.tennesseebassguides.com Note: The baits above appear to have some orange on them-BUT-that was created by the flash of the camera-These are Rapala DT Red Craw. Rick
---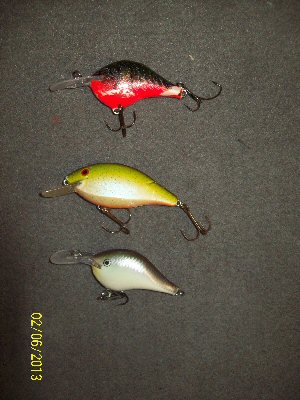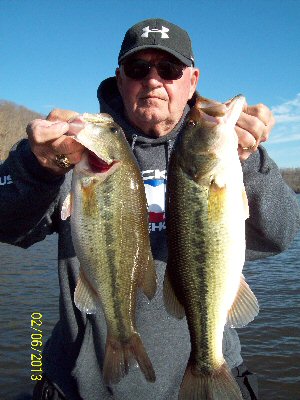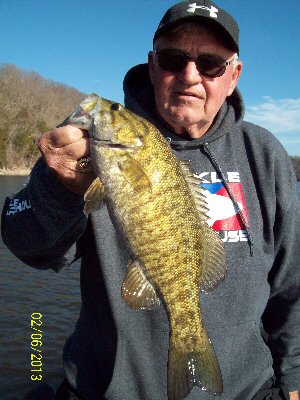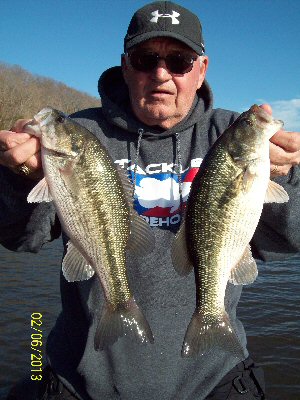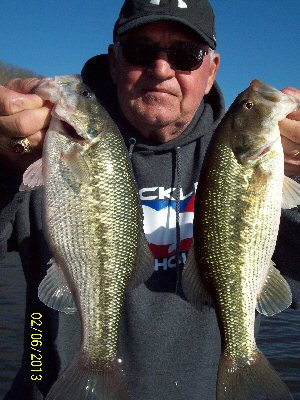 Normandy 2-5-2013
Jerry Steakley and I put in at the Barton Springs ramp at 7:30am and fished until 3:00pm. Water temp's ranged from a low of 44 degrees to a high of 47 degrees and had good color from Barton Springs all the way to Crampton Creek, then it began to clear up. The 3 baits pictured above was the best for me. Rapala DT6 Red Craw, Rapala DT6 Blue Back Herring www.rapala.com and a Luhr-Jensen Root Beer Chartreuse Speed Trap www.luhrjensen.com . 8lb test Sufix mono on a 7' med All pro APX Spinning Rod. www.allprorods.com Totals for the day 1 Smallmouth, 2 Largemouth, 9 Spots and I had my line broke one time. Cold water cranking---hard to beat. Murfreesboro Outdoors carries everything that I used today-Check them out. Rick McFerrin www.tennesseebassguides.com
---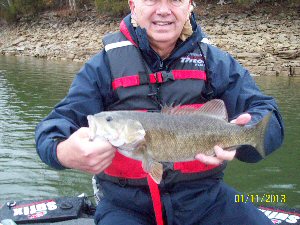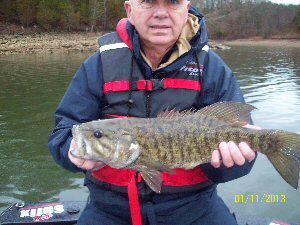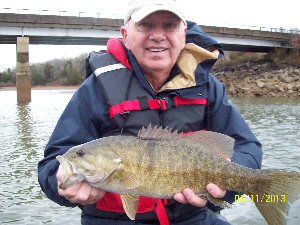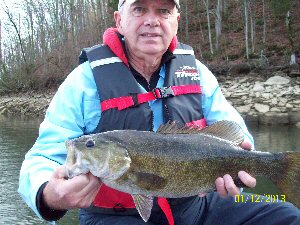 Tim's Ford 1-11-2013
I met Mr. Earl Hull at Holiday Marina on Tim's this morning at 7:00am. This was one of the warmest winter days that I can remember in a long time. It was right at 60 degrees when we met and 71 when I left the lake. Water temps have come up a couple degrees and all the ramps that I have been using are in good shape. The 4 Smallmouth above was our best for the day and each was caught on a 5 to 6 inch creek minnow. We both use Sufix 6lb Mono www.sufix.com I know I'm a broken record on some of this, but if I didn't believe it 150% I wouldn't write it. Sufix provides some of the longest, smoothest casts that I have ever experienced on a spinning reel. Plus the 6lb test is only .010 in DIA but yet is extremely tough. Then when you add in the G2 winding that virtually eliminates memory, you are good to go. Today I switched to a #7105 VMC Wide Gap Hook because of the size of the minnows www.vmchooks.com. These hook are made with Vanadium Steel and have a needle sharp point . We both used the Med action AllPro 7'6" Apx Rods that worked perfectly as always. 3 different lakes this week (see reports below) 3 good days. Rick McFerrin www.tennesseebassguides.com
---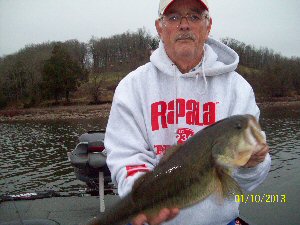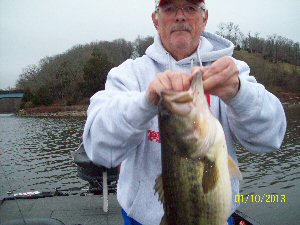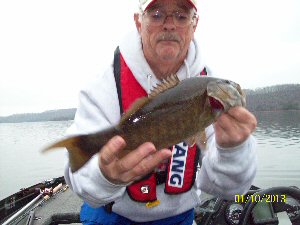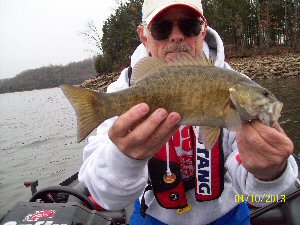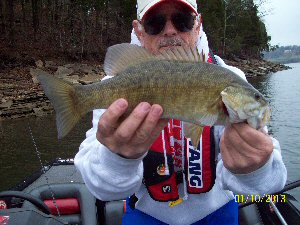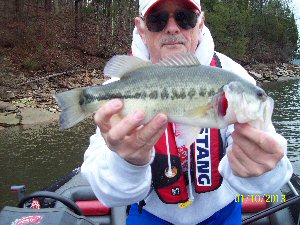 Normandy 1-10-2013
I spent 4 hour on Normandy today and it almost felt like spring as warm as it was. Big fish for the day was a 6lb 6oz Largemouth. Everything came on a DT6 Red Craw www.rapala.com and a Trigger X Herring Paddle Tail Minnow www.triggerx.com on a 1/4oz VMC Smoochin Swim Bait Head. www.vmchook.com all on 6lb test Sufix Mono www.sufix.com and a 7' AllPro APX spinning rod. www.allprorods.com . Water temp was 45-46 and the air temp got up to the low 60's. I will be on Tim's tomorrow morning and will up date you then. Rick McFerrin www.tennesseebasguides.com
---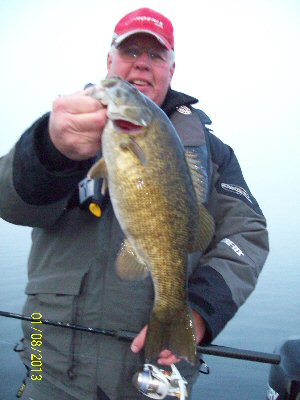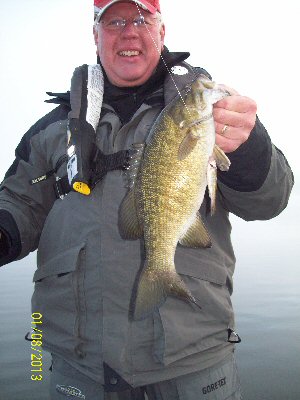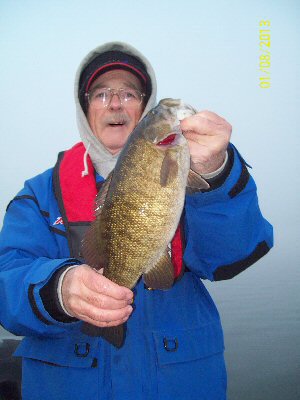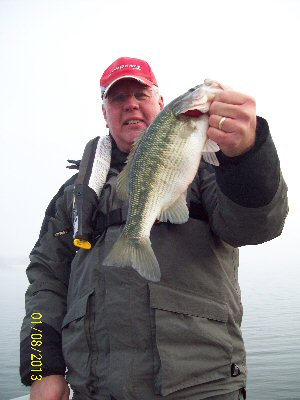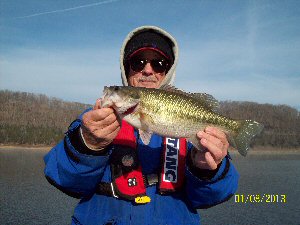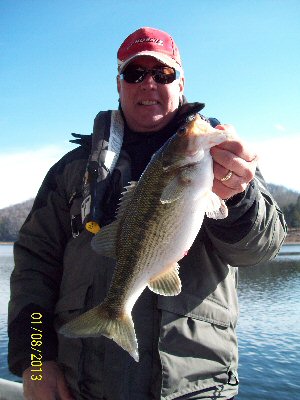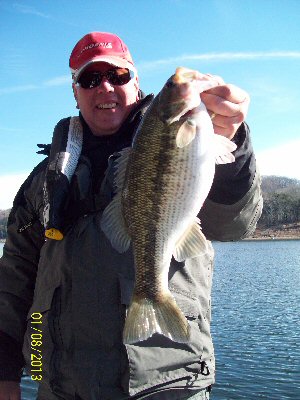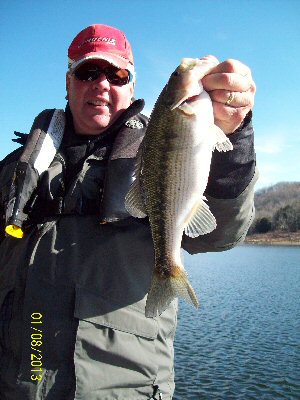 Center Hill 1-8-2013
I met Ken Jenkins at daylight at the ramp and 15 minutes later we were on fish. Ken is very very good with his electronics which paid off big time. We caught and released 8 that you see above plus 7 others that released themselves. One of which was the biggest Spot that I have ever had on. We caught everything on creek minnows, (see top center picture) 6lb test Sufix mono www.sufix.com VMC Hooks www.vmchooks.com and All Pro 7 foot Medium action APX rods. www.allprorods.com. The bite was light today, many times when you lifted the minnow up it just felt as if you were hung then you would feel the slightest tick. That is where the 6lb test Sufix Mono and the sensitivity of the APX Rods shine. Good day with a good friend. More the end of the week from Tim's. Be sure to check with Randy at Murfreesboro Outdoors for all your winter fishing needs. He carries everything I use. Rick McFerrin www.tennessbassguides.com
---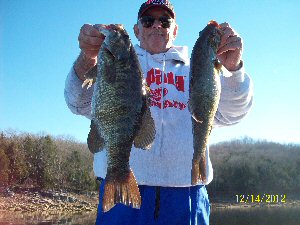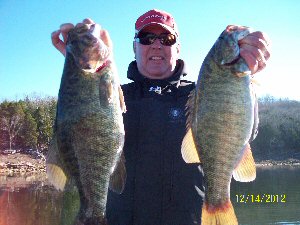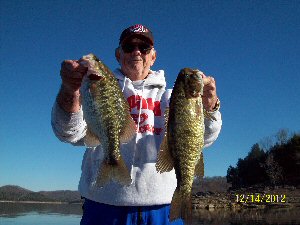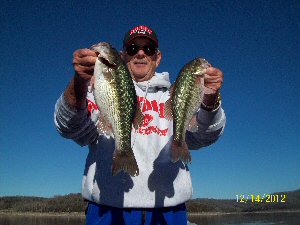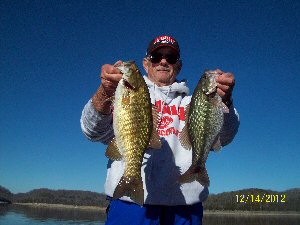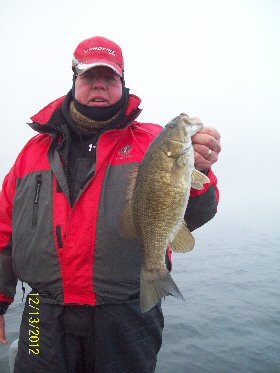 Center Hill 12-13-2012
Ken Jenkins (pictured bottom row) and I put in at 6:45 this morning and had 4 great hours on Center Hill. Ken told me he had a "Hot Spot" and boy was he right! Ken caught a couple on a Tube but the pay off came on creek minnows. We estimate that our best 5 would be in the 16-17lb range. We weighed the largest Smallmouth 4lbs even and the largest Spot 3lbs 2 oz. We used VMC #4 Bait Keeper hooks www.vmchooks.com 6lb test Sufix mono www.sufix.com on All Pro APX 7' Med spinning rods www.allprorods.com . This was my first opportunity to get back out since a young man that lived with us for several months was killed last week in a car wreck. It felt good to spend a day with a good friend. Rick McFerrin www.tennesseebasguides.com
---
---